Discussion Starter
·
#1
·
This has been an interesting deer season. This is my second deer season of being a picky hunter, not shooting a 1 or 2 year old deer. Even though I did not get the big one, I did spent a lot of time in the woods and saw plenty of bucks and I did experience several "first" this year.
I saw two young bucks square off in a good fight. I had never saw two wild bucks fight. Surprisingly enough the smaller buck won. After pushing each other around for a while the smaller buck got the other buck turned sideways went under him and flipped him over on his back. It was kind of funny seeing the buck "white belly up". The buck quickly righted himself but wanted no more fighting and exited stage left while the littler buck walked toward him posturing. I guess it is not always the size of the buck in the fight but sometimes the size of the fight in the buck that matters.
On another evening during muzzleloader season I watched a young buck chase a doe back and forth through the pines for several minutes; finally the doe ran down to the pond where I was on stand. Since this buck was smaller than I wanted to shot I just sat back and watched. She ran through some shallow water with the buck in hot pursuit and then laid down under a scrub oak bush. The buck was relentless and poked her with his antlers to get her back on her feet. Once up she ran into the pond and started to swim across with the buck right behind her. The buck was trying to mount her while she was swimming almost making her go completely under water. When she got to the other side of the pond she stood in a six inches of water and let the buck mount. She was probably too exhausted to run off at that point. After about a minute or two it was over and she ran off with him in pursuit. I was sitting within 30 yards of the pond during the whole time. I had never seen that before. I guess cold water doesn't have the same effect on a buck as it does on a man.
This past Thursday I was stalking along about 15 yards from a fence when I noticed some deer ahead of me feeding my direction. I knelt down in the grass and watched as they continued to work my direction. They literally got within a few yards of me when the lead doe blew and then jumped the barb wire fence. The second deer tried to do the same, which is when I heard a thud sound. Looking through the grass I did not see what happened but when I stood up I saw that the little buck did not clear the fence. He was caught and despite his struggles he could not get free. After a while he finally settled down enough for me to spread the barb wire and push his hoof through the two wires. He let out a loud bleat and ran off. If I see him again in four or five years I won't be so kind. But on that day, I felt good about saving that little guy.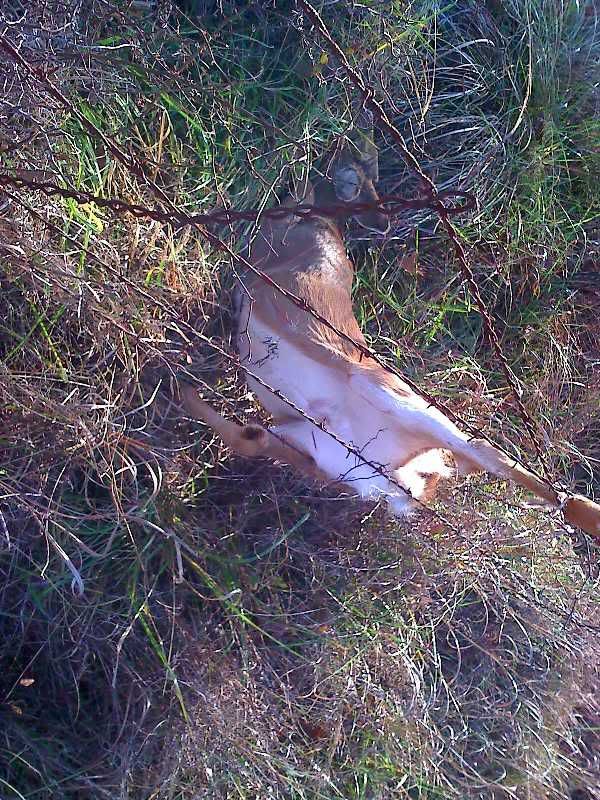 Later the same afternoon I saved the button buck, I saw a buck that had a really bad limp. He appeared to be struggling just to walk. After watching for a while I decided to take him if given a chance, even though I have past several bigger this year. He was in the pines about 175 yards out and it was difficult to find a clear shooting lane. About 45 minutes after first seeing him, he presented me a shot. He expired only a few yards from where I shot him, but to my surprise when I found him he only had one attached antler. I knew he had two when I shot him moments before so I looked around and found the second one. He had not broken it off but shed it when he died. I would still be crying if this happened to a real trophy. The reason for his limp was a bad swollen open sore just above the hoof on one leg. His hoof was about to fall off on that leg. The deer looked in poor health and despite being a 2 year old he only field dressed 94 lbs. I guess the stress caused by the leg wound caused the early shedding of his antler. I was able to break the other antler off without much effort. I never saw that before either.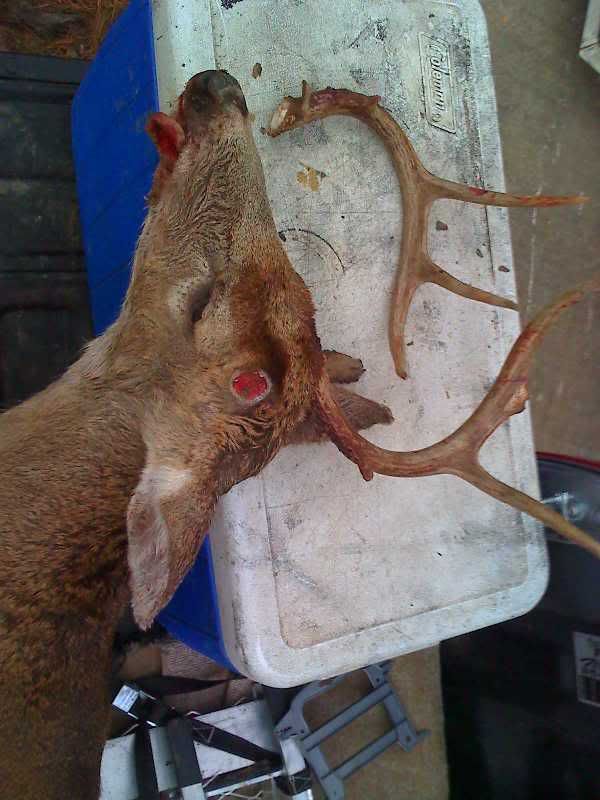 I sure hope to get out a couple more times doe rifle or archery hunting, but regardless it has been an interesting season.