Discussion Starter
·
#1
·
I just got back from my annual late season Northern Kansas hunt and had a pretty good time. This was the toughest year we have had, but we still managed to kill five birds total, one from a complete tag out.
Day one was May 24, we got out there in time for an evening hunt and saw four hens go to roost, never heard a gobble.
Day 2 -We got back in the same general area where we saw the hens, hoping to at least hear a gobble. Weather was forecasted to be coming in that night and it was already hot and humid at daybreak. We heard one gobble and headed to it, but it seemed like that was all he wanted to say. The landscape is prairie hills with a few wooded draws and when it is fairly calm it is easy to hear one pretty far off, but it was silent. We decide to walk down by a couple of ponds to see if they would head to water right off the roost and PAYDIRT, we were able to strike him again! After a bit we saw them, two jakes and a hen. Normally, I at least try to not shoot jakes, but this was the only bird gobbling and I got trigger happy. I called them in to about 40 yards, shot the lead bird and one of my buddies (Daniel) shot the other.
Day three - Absolutely nothing gobbled from the roost. We drove by a few other walk-in areas and had no luck. We decided to check a couple out that looked to be about 30 miles away, one of which was on the highway. Well, as luck would have it we drove by the area on the highway and saw four birds in an alfalfa field, one of which was a full fanned strutter! We drive to the back of the area and make our way to the field. It was windy, so it was easy to sneak as far as the sound of footsteps being muffled, but EVERYTHING was moving, so it was hard to see. Well, we ended up busting 2 hens at about 15 yards, they flew off and we looked toward the highway and there was the original group! We hit the dirt by a fence and on the back side of a terrace. I could not seem to get any response from the calls, they might not have heard them. I then pulled a hail mary and took the jake fan for my decoy out of my vest, spread it out and eased it over the terrace. That got their attention! My other buddy (Brad) belly crawled to some taller grass by the fence, hoping the big gobber would march up the hill. Well, he had a hen and they were content at slowly coming toward us. There were two jakes that were very interested in what I was doing and they came straight in. The first one went down at 8 yards and the second jake began flogging his buddy and gobbling his head off. I started throughing fighting purrs at him and kept him around for a bit. Daniel said he did not really want to shoot another jake, so we let him walk off. The gobbler never flinched at the bottom of the hill when the gun went off. Brad and Daniel switched places and I tried to coax the gobbler up the hill. Well, I guess jake 2 was lonely because he came back. I guess Daniel got trigger happy because he shot jake 2 at 13 yards. It was my turn for boss gobbler. At this point the gobbler was not really spooked, but walked off into the tallgrass in the same fence my buddies had laid in to shoot the jakes. I took position as the shooter and decided to belly crawl closer to the gobbler. It all worked great except that I some how MISSED him at 40 yards! Still not sure how that happened.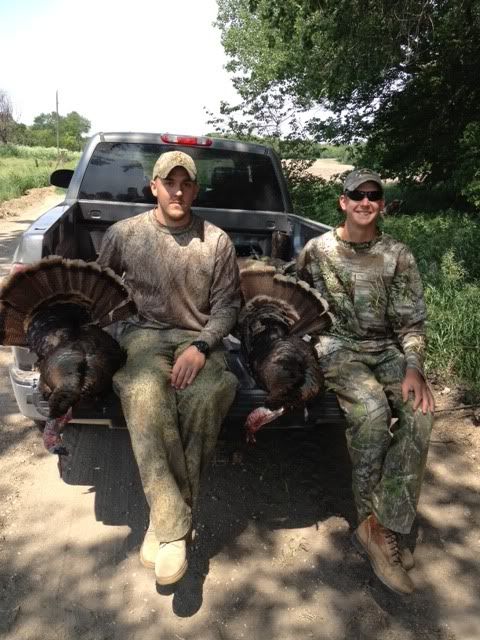 Day Four -Really Hot, few gobbles in the morning, but no real action. We found a gobbling bird that evening, but he was more interested in his roost. But we knew where he was.
Day 5 - Last Day. Two of us had a tag left and I had never actually taken a mature gobbler in Kansas so I was given the opportunity to be primary shooter. We got to the woods early and set up about 150 yards away from the bird on the roost. As daylight broke, it was clear he was still hot, he literally gobbled 20+ times before he flew down. I had given him a few soft yelps and he hammered back. He flew down toward us, I soft yelped, he gobbled and began coming our way. He got about 100 yards away and started acting uneasy and turned to walk away. Well, we hail maryed again. My buddy opened up my jake fan and I began gobbling at him (with my voice). You could see his demeanor change and he marched back to 80 yards and stood there for what felt like forever. He started acting spooked again and walked off to our left and around a finger of woods. I got up and got in the creek and snuck toward him. I guessed him to be around 45 yards, but I must have misjudged. My first shot knocked him down, but he got in the air. Two shots later, I though I had screwed up again, but he crashed in the field about 100 yards away. He was not huge, 15 lbs, 8 1/4 beard and 5/8 spurs, but I sure am happy! Oh, and I figured out why he was so nervous. I shoot #6s, but when I skinned him I found a bunch of #4s in his back and up his neck that were in the process of healing! He was an edumacated turkey!!